World Kidney Day 2019 at Miamed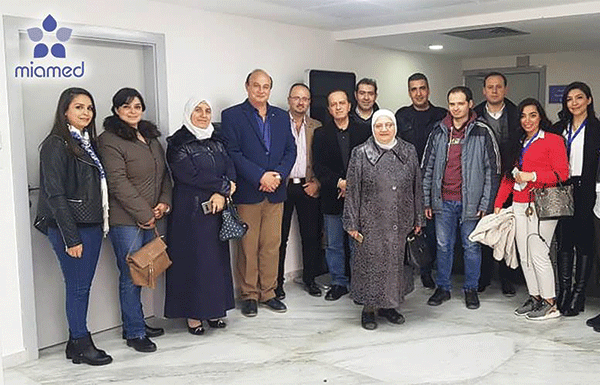 On the occasion of World Kidney Day in the first half of March each year, we launched a preliminary campaign on the manufacturing mechanism used in the production of dialysis solutions and salts in accordance with the latest international conditions and Good Manufacturing Practices(GMP).
On Saturday, International Doctor Day, in collaboration with CMS-Baxter, we received a group of elite doctors in Syria.
We took them on a tour of the Factory sections:
(Water treatment plant/ Production and Packaging departments / Quality Control Lab/ Warehouses...)
After the tour, Miamed and CMS-Baxter discussed all the scientific and technical requirements and problems faced by medical staff dealing with kidney disease in Damascus.
Physicians present:
- Dr. Loay Ismail (Head of Internal Medicine Department, College of Surgical Hospital)
- Dr. Nasser Akash (Head of the Red Crescent Blood Purification Department and Al Othman Medical Complex)
- Dr. Iman Salhani (Head of Pediatric Dialysis Department, Hospital Surgical Hospital)
- Dr. Ruba Nashwati (Specialist of Nephrology in Damascus Hospital)
- Dr. Waseem Maqsood (Nephrologist, Ministry of Higher Education Hospitals)
- Dr. Mustafa Meznara (Nephrologist)
- Dr. Sahar Damrli (Nephrologist)
- Dr. Naji Hameed (Nephrologist at Surgical Hospital Hospital)